Left to Survive, the popular shooter and base-building game from MY.GAMES, has become a top-rated game in the PvE Shooter category, ranking number 2 in terms of both revenue and downloads, according to data.ai. With over 60 million installs and $120 million in revenue since its 2018 launch, Left to Survive continues to be one of the most successful games in its genre.
"We're incredibly grateful to our loyal players, who have inspired us to keep pushing the limits with fresh and exciting content. From new maps and heroes to innovative in-game events, we are dedicated to keeping our audience engaged and entertained," said Vladimir Nikolsky, CEO of MY.GAMES. "We listen to our players' feedback and are constantly working to improve gameplay mechanics and player experience to ensure Left to Survive remains at the forefront of the industry."
One of Left to Survive's most popular new features is the Time Travel events series. These special events take place monthly and offer players an immersive experience with stylized maps and unique opponents. Players can battle not only zombies and other players, but also medieval necromancer clans, an alien threat, and a race of bugs lurking in the depths.
Left to Survive provides players with an exciting and ever-expanding gameplay environment. With an ever-increasing arsenal of weapons, a wide range of enemies, and constantly updated visuals and modes, from boss battles to sync PvP and base raids, players will always find new challenges.
In the last year alone, the game reached several impressive milestones, including: 45 million weapons received by players, 237,893 active clans, 67.2 million hours spent in battles, 400 million PvE and 150 million PvP matches, over 1.5 billion zombies killed in the head, 221 million raids on other players' bases, and 83 million in-game purchases for gold.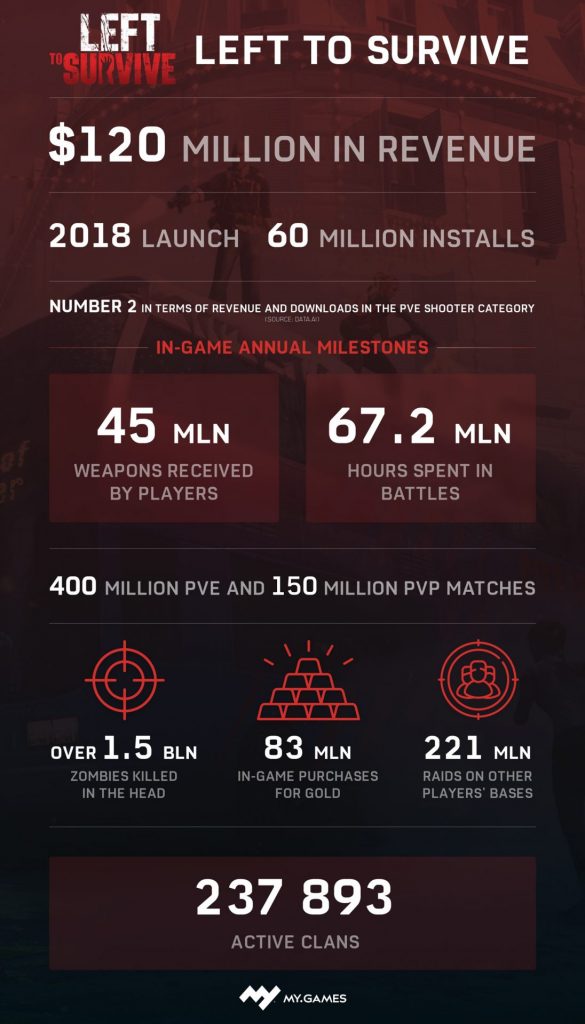 Left to Survive is available on both Android and iOS platforms, and the MY.GAMES team is committed to developing new features and content that will keep players entertained for years to come.